There are tons of perm trends and options in the current market.
The most important question is, which one is right for you?
In this comprehensive guide we will walk you through the different types of perms and how they look and affect your permed hair.
What is a Perm?
A perm or Permanent wave is a hairstyle produced by setting hair in loose to tight curls or waves and then treating it with a special perm solution so that the style lasts for several months.
You might be thinking which perm will be right for me?
Read on to learn about all the available perms and which perm will be right for you.
For anyone over the age of 20 the thought of a perm may send us 'spiraling' back to the 80's. Pictures of you, or your family with hair teased so high. But believe it or not they are making a comeback, and for a good reason.
Perms and the products used to achieve them have come a long way. With advances in the chemistry behind producing the solutions used for perms there has been positive evolution in maintaining the integrity of the hair through a perming service.
One major game changer has been the Arrojo American Wave Perm…we will discuss this later on.
The beauty of a perm is that it is customizable for the individuals expectations and needs. There are various "wrap patterns" that can be utilized to create the desired result of each individual client.
Types of Perms
Traditional Perm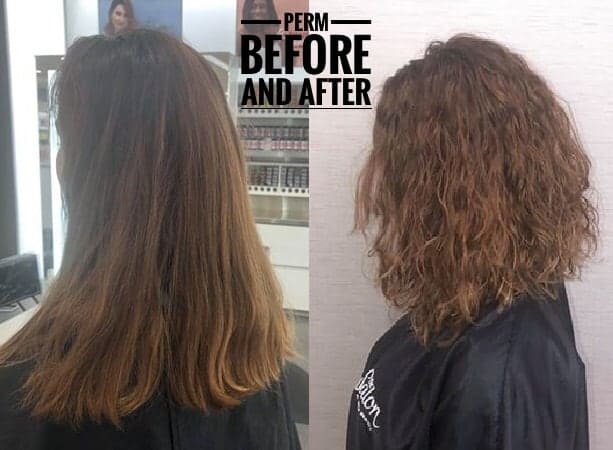 Hair by: Shanyia Thailer Parker
IG: hairbyshanyia
Traditional perms are created using hard perm rods with a rubber band that hold the hair onto the rod. These may be the rods you remember when you think back to sitting in a salon for 6 hours getting a spiral perm, or hanging out with your grandma while she got a perm with tiny little pink perm rods to insure that her wash and set will stay in place for the week in between beauty shop visits.
While stylists can still give you this look, it may not be what you desire. You also do not want to go with a traditional perm if you have had highlights in your hair, or if the integrity of your hair is compromised.
Traditional perms restructure up to 80% of the bonds in the hair while modern options, such as the American Wave Perm, only restructure up to 25% of the bonds in the hair leaving the hair feeling more natural and healthier.
Olaplex Perm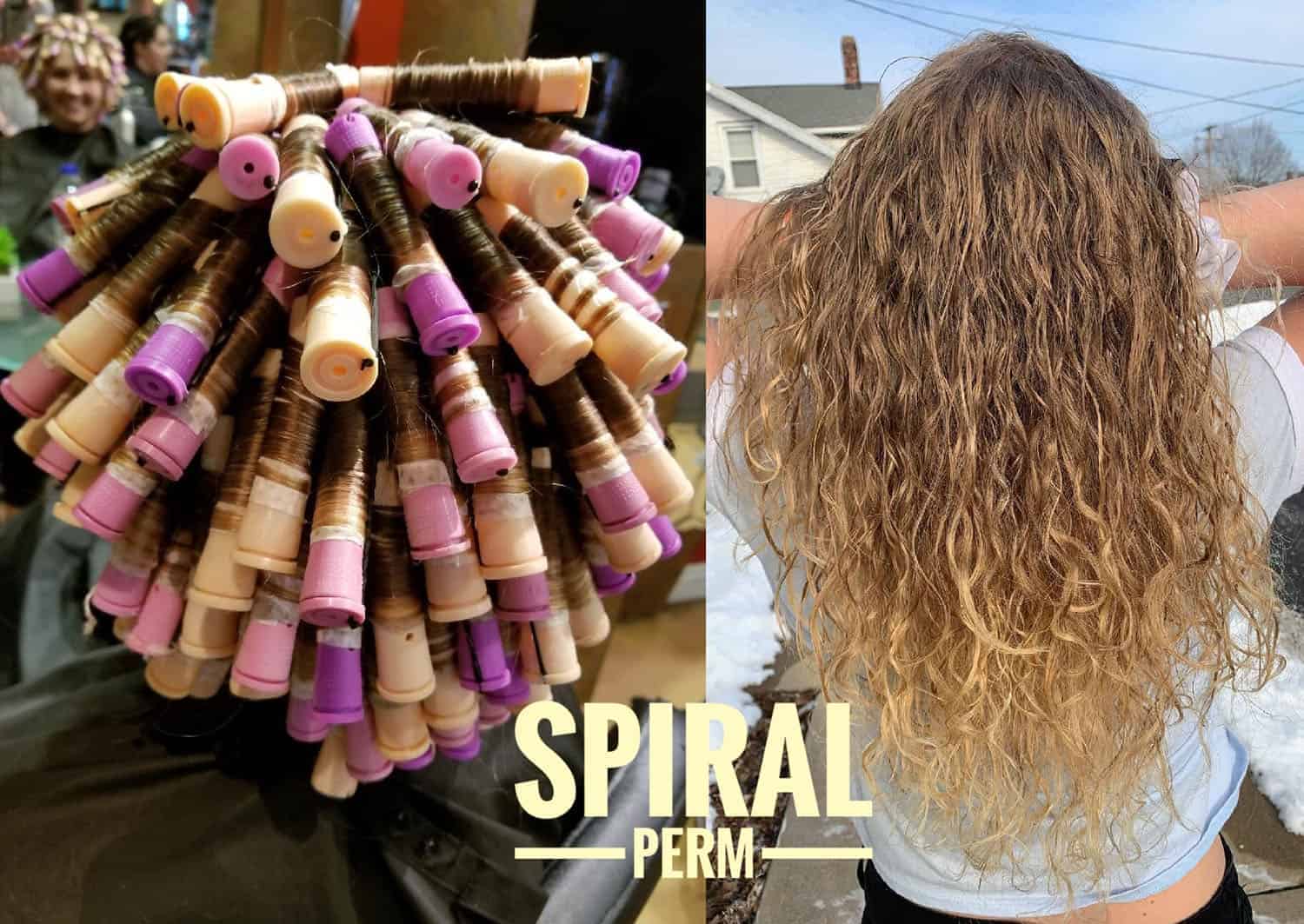 Hair by: Missy Mauricio
IG: hrhsehuggs
An additional option that can be incorporated into a traditional perm is an Olaplex Perm. Olaplex is a bond rebuilder, it helps repair and protect bonds in the hair.
This will make a traditional perm solution a little more gentle on the hair, it also allows people with highlights to have a perm with a regular perm solution.
You may have seen pictures of Julianne Hough perm after her Olaplex perm it helped her achieve a beachier curl on her highlighted hair!
An added bonus of using Olaplex in a traditional perm solution is that there is no 48 hour waiting period. The hair can be shampooed immediately after the service is performed.
Perm Styles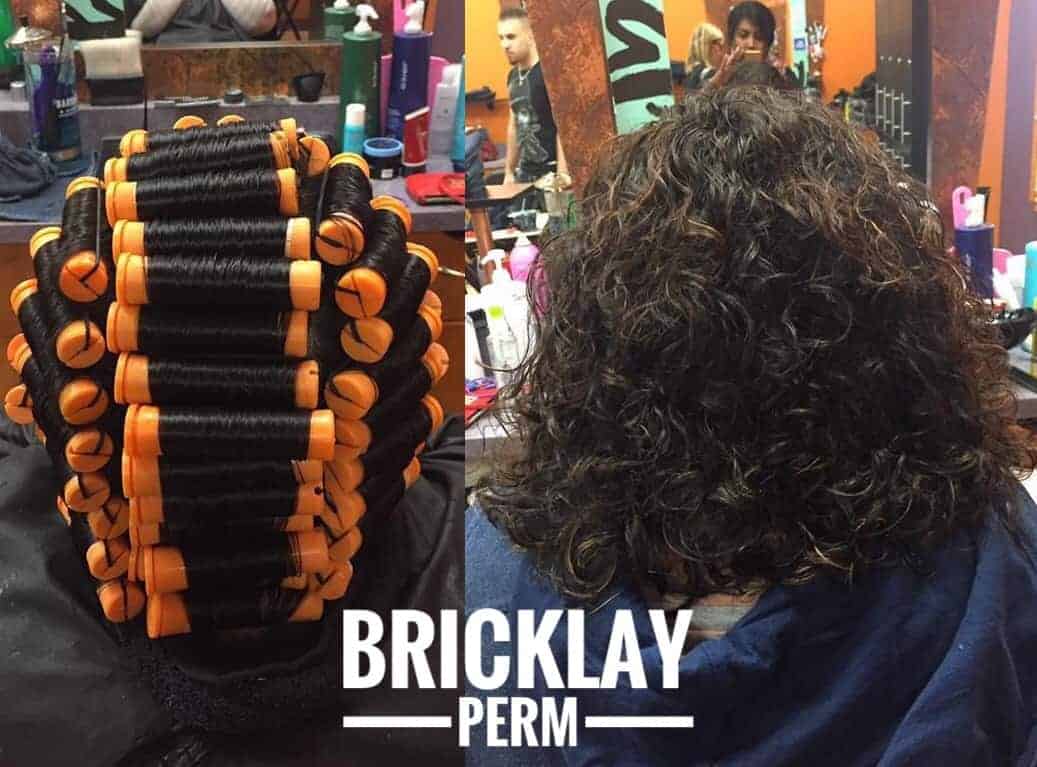 Hair by: Trisha Gader
If you decided to go with a traditional perm you can still get a spiral perm wrap, or brick lay pattern wrap and get a lot of texture to your hair.
And don't worry if you have extremely long hair, you can always get a "piggy back" wrap which uses two rods wrapped on top of each other to incorporate all of your length.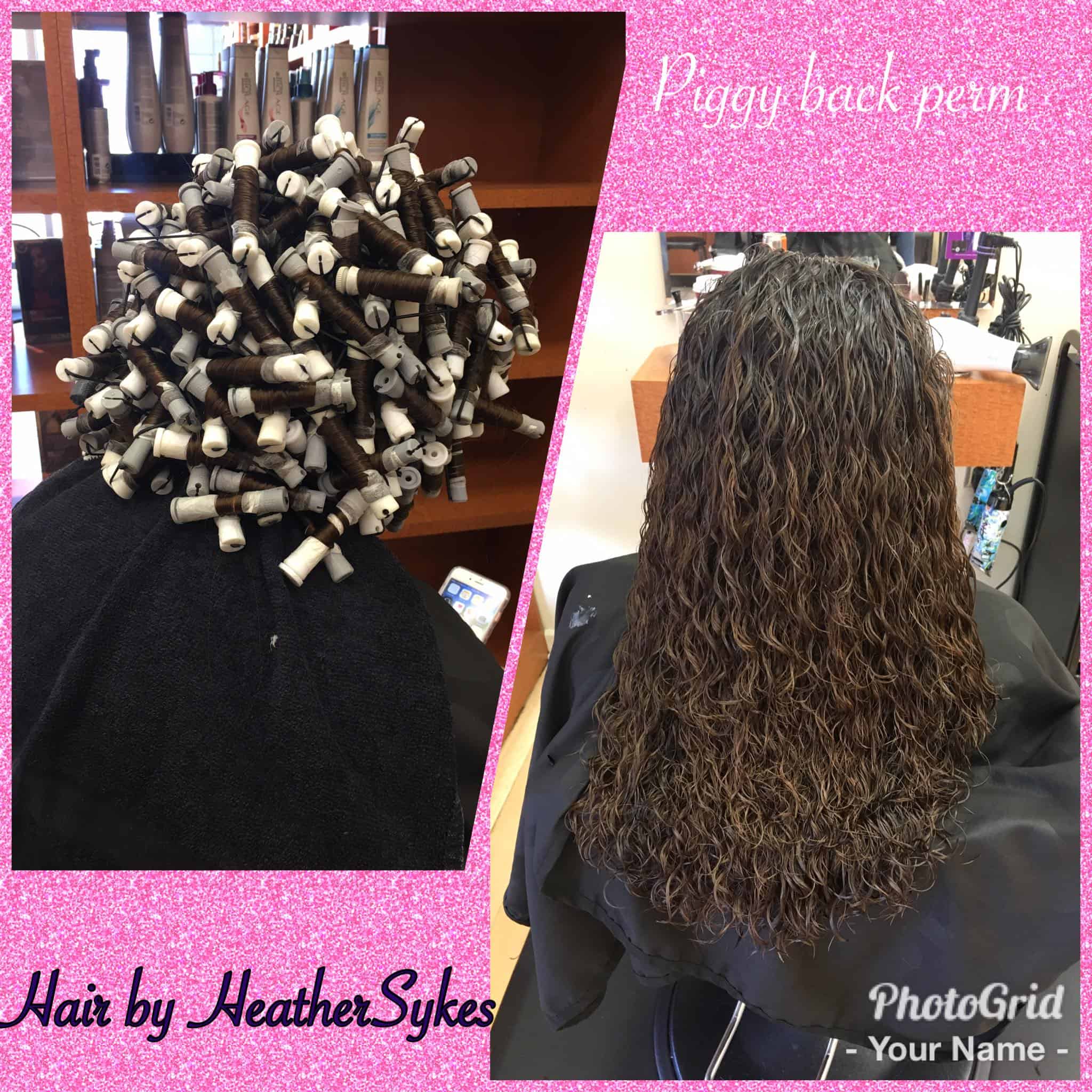 Hair by: Heather Sykes
Traditional perms do require more maintenance though, requiring touch ups every couple months to diffuse the "line of demarcation" where your natural hair grows in. Maintaining a perm is like maintaining colored and highlighted hair. It is easy to see the line of outgrowth so keep up with your scheduled appointments.
Especially if you have very straight hair to begin with.
Another reason someone might get a traditional perm is to loosen very kinky curls. Just because you want to embrace your curls, does not always mean you like your natural curl pattern.
Curly girls can get their curls loosened with larger rods, using traditional perm solutions, or American Wave perm solution.
Braid Perm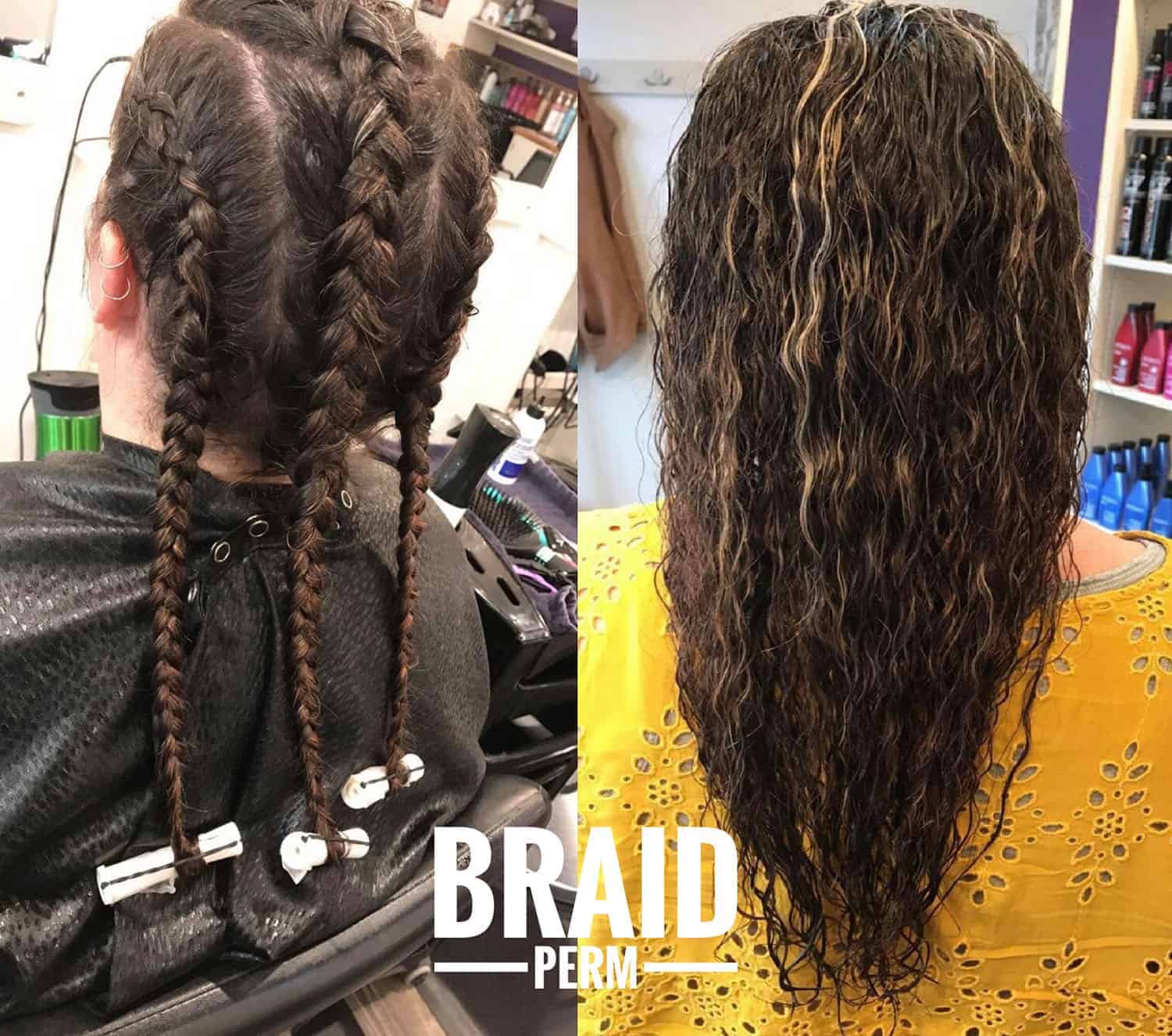 Hair by:Kiana Haar
French braid perms have recently become a new trend. Instead of using traditional perm methods of wrapping around perm rods, the hair is braided into one or multiple braids (french or dutch) and perm solution is applied to the hair creating a "zig zag" type pattern in the hair.
This type of perm is great for a client looking to add bend to their hair with an effortless "bed head" look. This braid perm can be created using traditional perm solution or Arrojo American Wave Perm solution.
Traditional or modern perms can also be used to achieve style support. For someone with limp straight hair it might be a challenge to keep a voluminous style looking fresh throughout the day. Some clients like getting short hair perms to keep their roller sets in place, or add extra oomph to their short style.
Hair by:Charbonet Hightower
IG : charbonet
By receiving a perm, you can add a little texture and movement to your hair to support your blowout. In addition, a perm can add some texture to your bangs as seen in the picture below.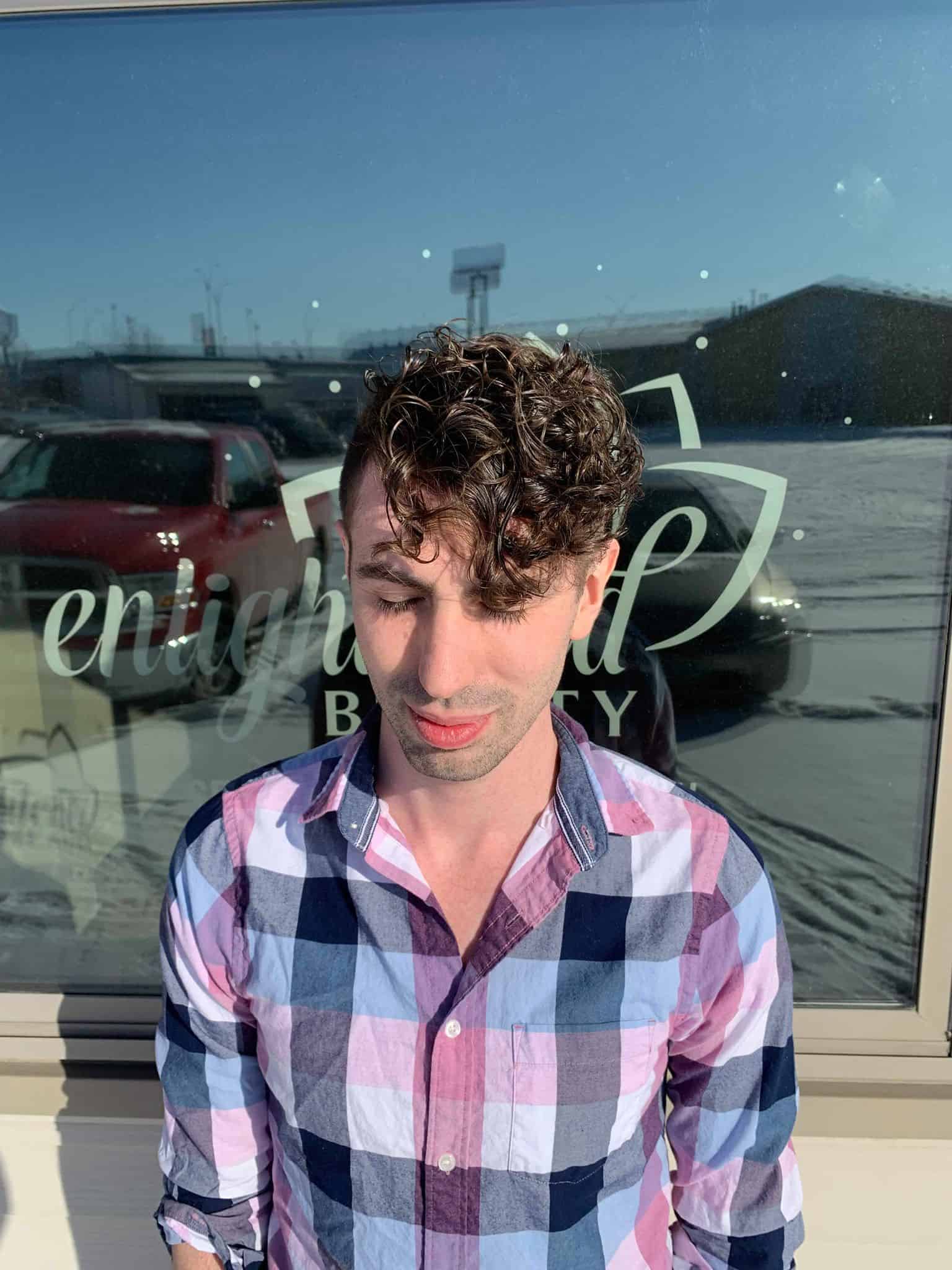 Hair by: MaLeah Dawn
IG : fargohairdresser
Man Perm
Man Perms have also become a fun new trend. The perm is no longer just for the ladies.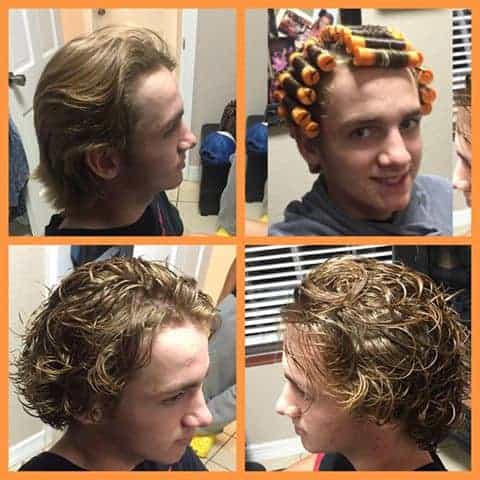 Hair by: Charbonet Hightower
IG: charbonet
Men can also enjoy the added texture to their hair. Depending on their length a man can either perm his whole head or just the top, utilizing a partial perm method, for some additional oomph and style support!
In a partial perm only the top "length" of the hair is permed, where the shorter, usually faded sides are left as their natural texture. Some men like to rock tight curls and some men also prefer a looser beachy look.
If your going for that California Surfer Dude look, an American Wave Perm can be the perfect option for you. But if you want to rock it out like Bruno Mars Perm a tight traditional perm is the way to go.
Root Perm
Maybe your thinking to yourself, I love my straight hair, and I don't want to perm my head and turn my nice straight locks curly but I would love the texture a perm could give me.
A root perm could be an option you might choose, A root perm is applied only to the first 2-4 inches of the hair. This gives some extra body at the scalp allowing your hair to gain and retain volume at the roots more easily.
Be aware, when a root perm grows out you will have a "straight, curly, straight" look where the outgrowth creates a line of demarcation. This could be a great option for someone who is willing to keep up with their root perms.
Digital Perms
You may have heard "buzz" about digital perms. The difference between a digital perm and a traditional perm is that the digital perm uses heat from within the rods to process.
This kind of perm will look more relaxed when the hair is wet but can create nice prominent waves when it dries. A traditional perm will likely look more curly when wet but the curls will loosen as the hair dries.
This type of perm comes with a larger price tag. Most salons start at around $250-$300 for a digital perm.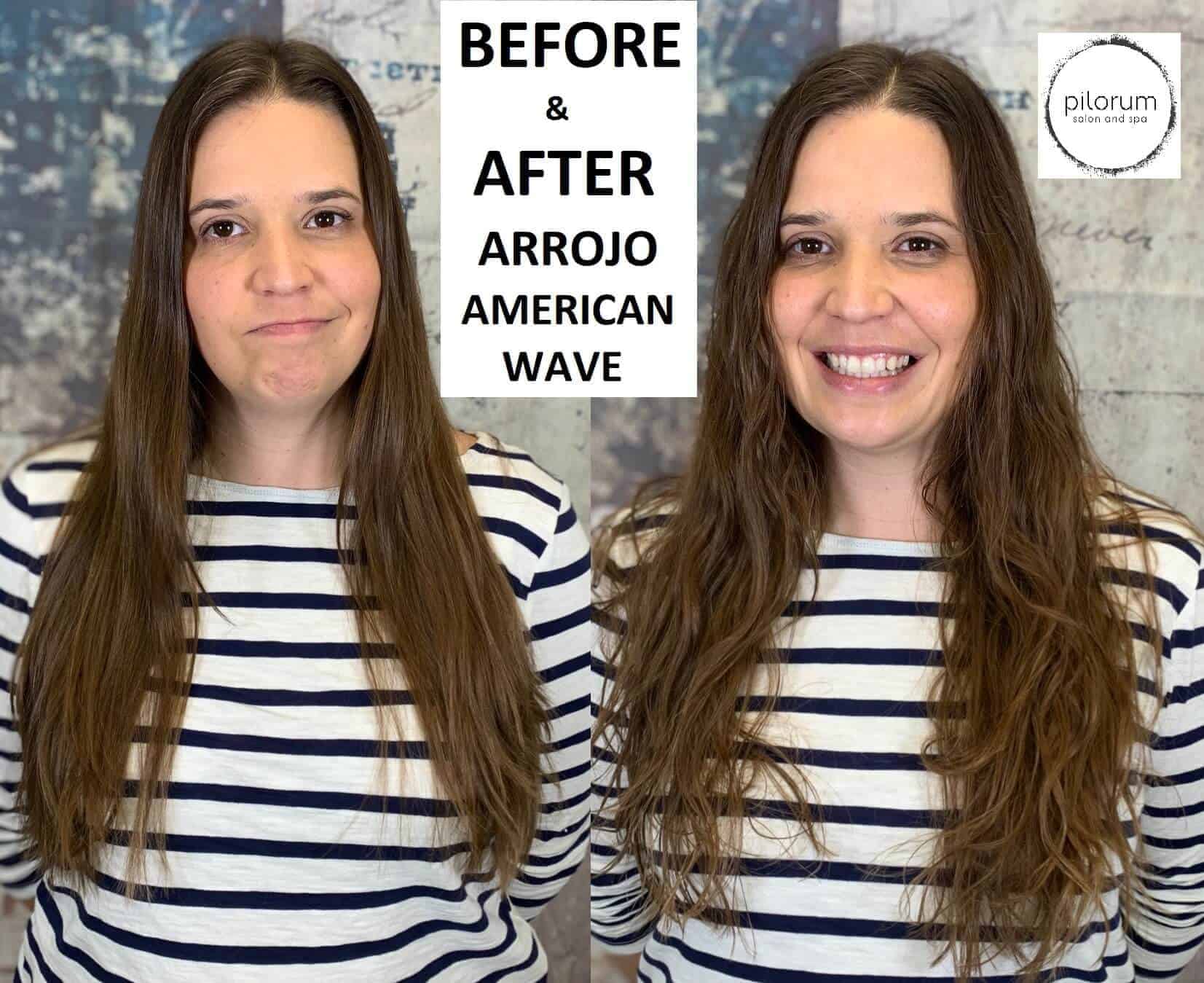 Beach Wave Perm
Current hair trends are leaving people lusting after loose wave perms that are more organic beachy waves.
Isn't that what all women really want?
To wash their hair, throw a little product in and look like they have just had the wind at the beach give them the perfect style. Based on this we can be so thankful to the modern hair companies for coming up with an answer to all of our prayers.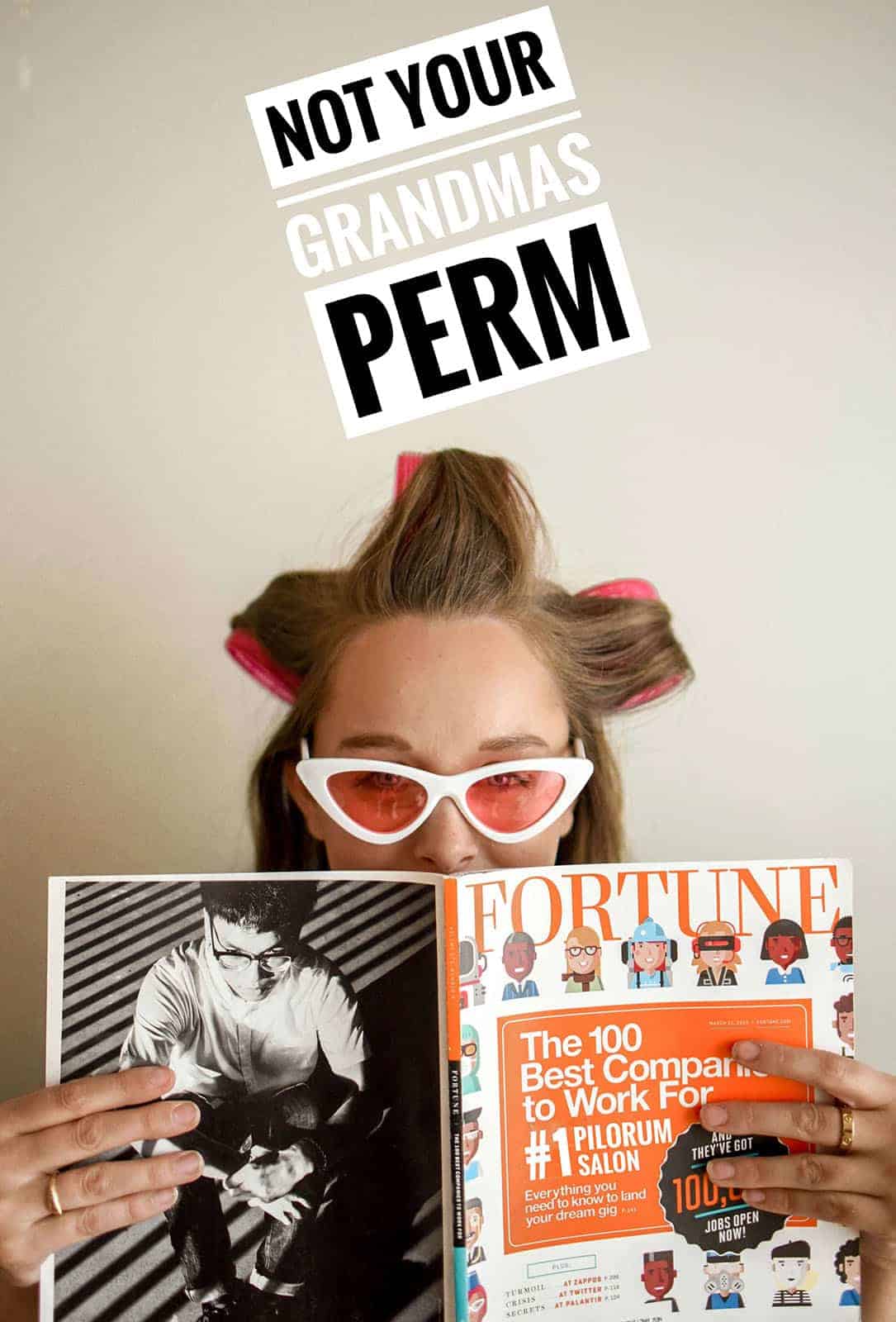 American Wave Perm
Let's talk about The American Wave Perm by Arrojo!
A new kind of perm solution has just become available recently on the market, the Arrojo American Wave perm. The American Wave Perm solution is a gentle formula only restructuring up to 25% of the hairs bonds.
This perm solution keeps the hair in a healthier condition and also leaves the client with a softer more natural looking wave.
Flexible foam perm rods are used to wrap this type of beach wave perm and can be used to add natural looking waves, add volume and style support, or a tousled look.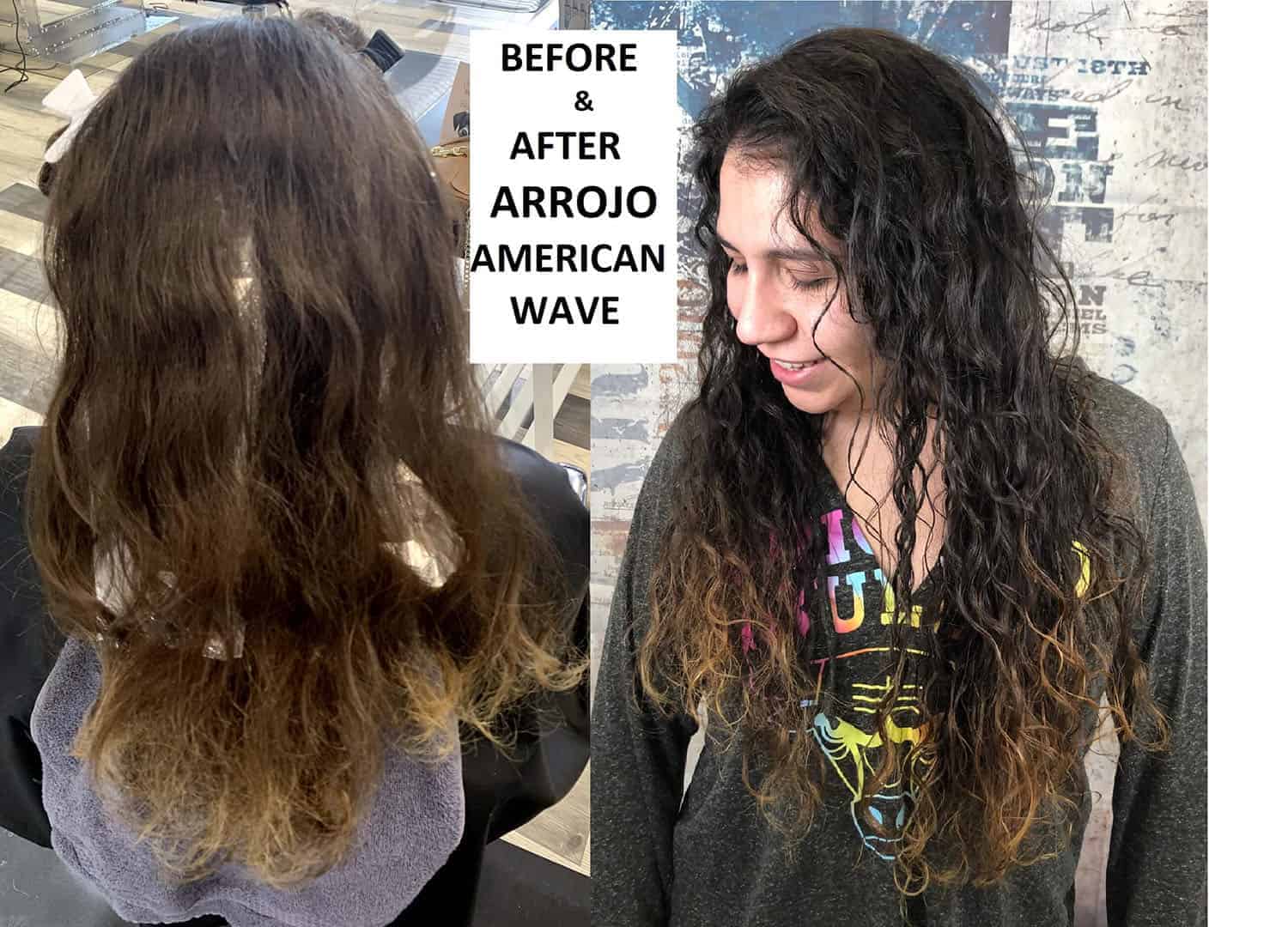 An American Wave Perm is perfect for a client who is looking for a low maintenance kind of perm. Because of the gentle nature of the formula a client would not need to keep up with maintaining the perm if they decide they no longer desire the look.
It will slowly loosen out of the hair after a few months of wear allowing for less commitment than a traditional perm. This kind of perm is perfect for almost anyone. It can be performed on almost all hair types including colored and even highlighted hair for as long as the clients hair is in good condition.
Traditional perms can be a little too harsh for individuals with highlights.
Even with all of the benefits of permed hair, don't be fooled by google. There are many pictures on google which are misleading.
Convincing a client that they can wash their hair and allow their hair to air dry into perfectly styled curls. These pictures usually illustrate someone who has used a wand to create a perfect tousled beachy look.
While the right perm can make achieving these styles easier, it is not a guarantee to wash and go out with red carpet worthy waves. Keep in mind, the American Wave Perm is called a "wave" for a reason.
This is definitely a more tousled natural look. Do not expect to walk out with a head of hair like a poodle. This is the "I was born with this hair" perm.
Speaking of the red carpet… the American Wave Perm is becoming a hot Hollywood trend. Pictures of Emma Stone's Perm and Jaime King's Perm are all over the internet, so these stars have already started rocking these beachy waves.
Even celebrities want some body and fullness to their hair without needing a whole team to get them there.
Stylists who are certified in the American Wave Perm have gone through training directly through the company and will be able to help you acquire your desired look while keeping the integrity of your hair as their top priority.
Perm Care
You might be nervous about what to expect when getting a perm. Be aware you will need to wait 48 hours after your perm to wash your hair. It is recommended that you use sulfate free shampoos to maintain your locks.
Brushing curly hair isn't always the best idea, you will want to use a wide tooth comb. You can use a variety of products to help achieve your desired look. Whether it be a curl defining cream or light curl gel. Drying your hair is best with a diffuser.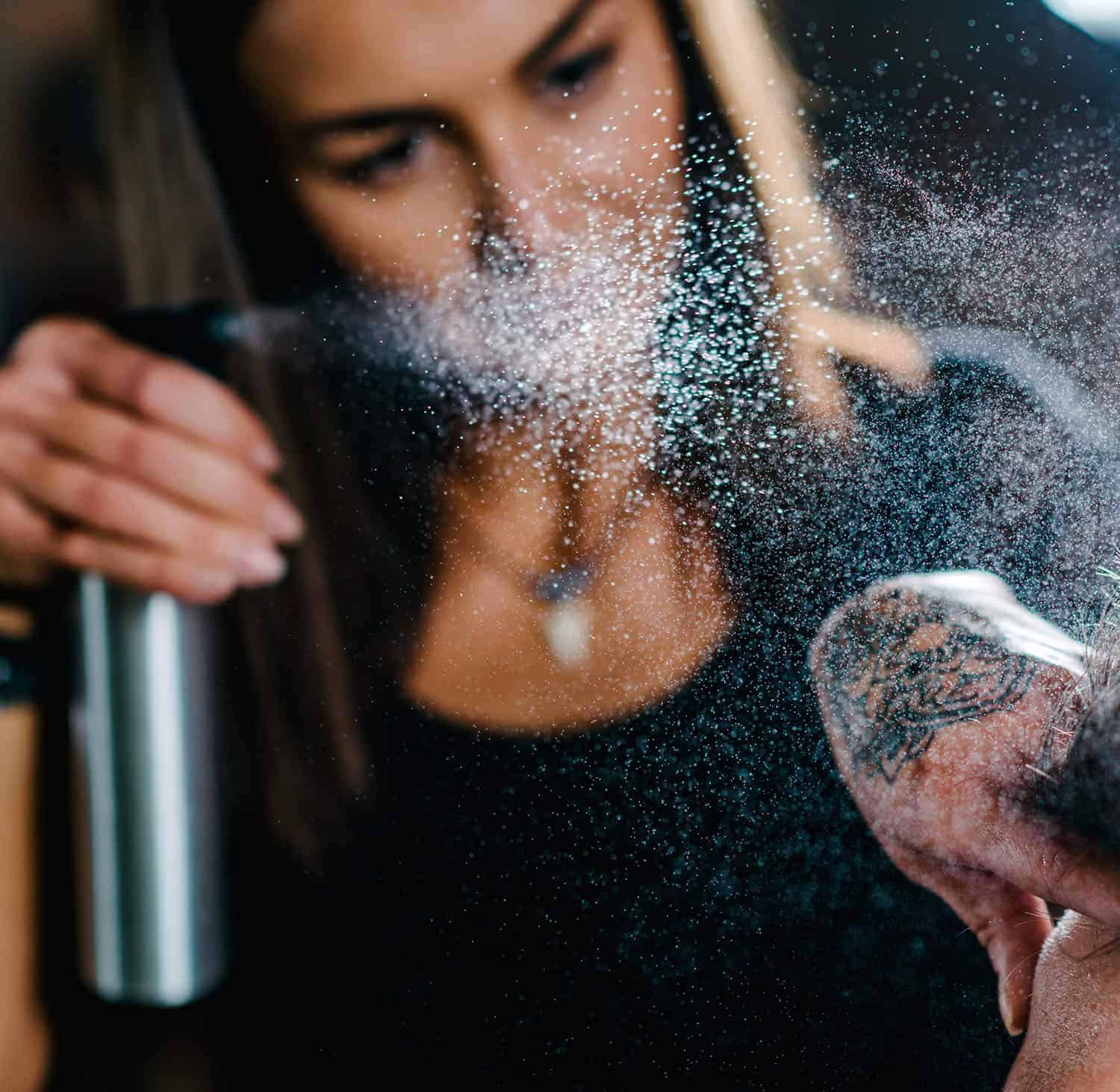 You should not be messing with your hair or touching it too much. To refresh your curls you can apply a salt spray in the morning to perk up your curls and either let it air dry or hit it with the diffuser once more.
To get a more polished look you can style your curls with a diffuser and re-touch some with a wand.
We always recommend a great cut after any permanent wave treatment.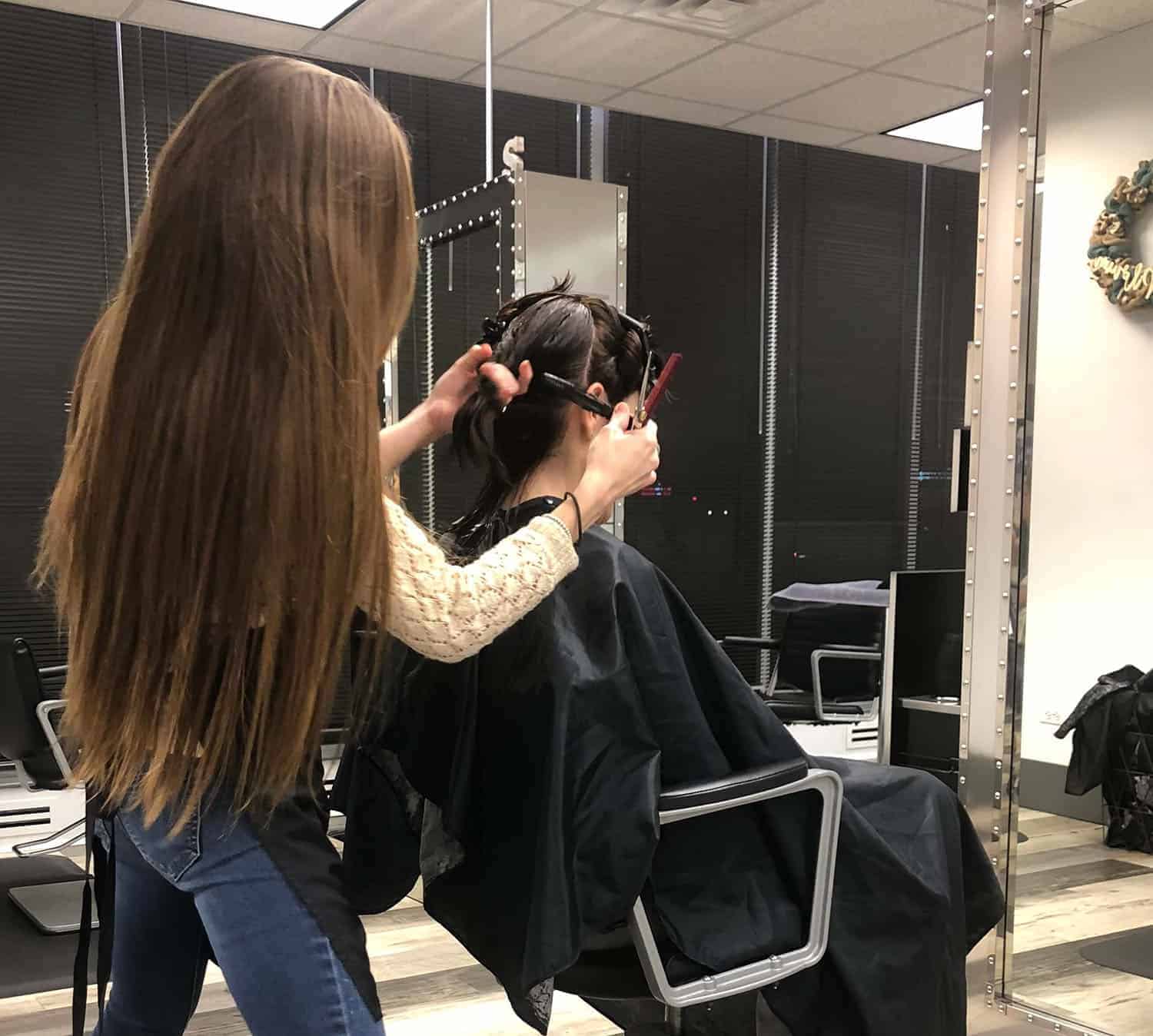 A great cut can really bring your curls or waves to the next level.
Your stylist can clean up your ends, remove unneeded weight from the hair and add the right layers to add life to your new texture.
As with any chemical process it is always recommended to keep up with trimming your hair to keep it as healthy as possible and to keep your style and hair looking its best.
Whether you choose a traditional perm or an American Wave Perm make sure to talk to your stylist about what your expectations are. Different perm rod sizes can be used to achieve different types of curls.
Smaller rods can be used to achieve tighter curls, and larger rods can be used to achieve bigger waves. Also talk to a professional before making this decision.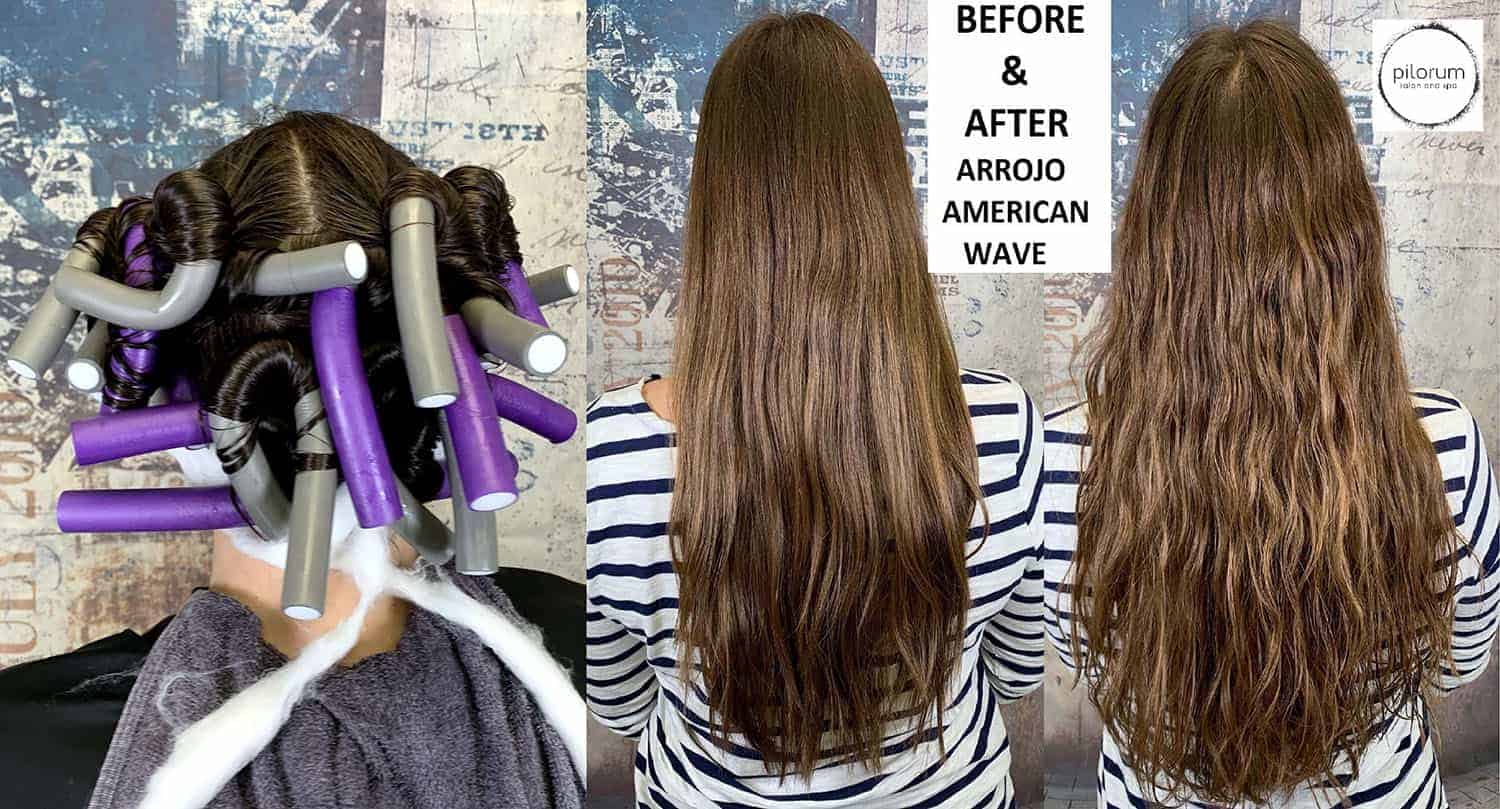 This is always a better option than depending on Google to tell you what you can and cannot expect with your hair. Everyone has different hair texture, and everyone's hair has been through different things.
A professional stylist can tell you about your different options, what looks you can realistically achieve and what kind of maintenance to expect.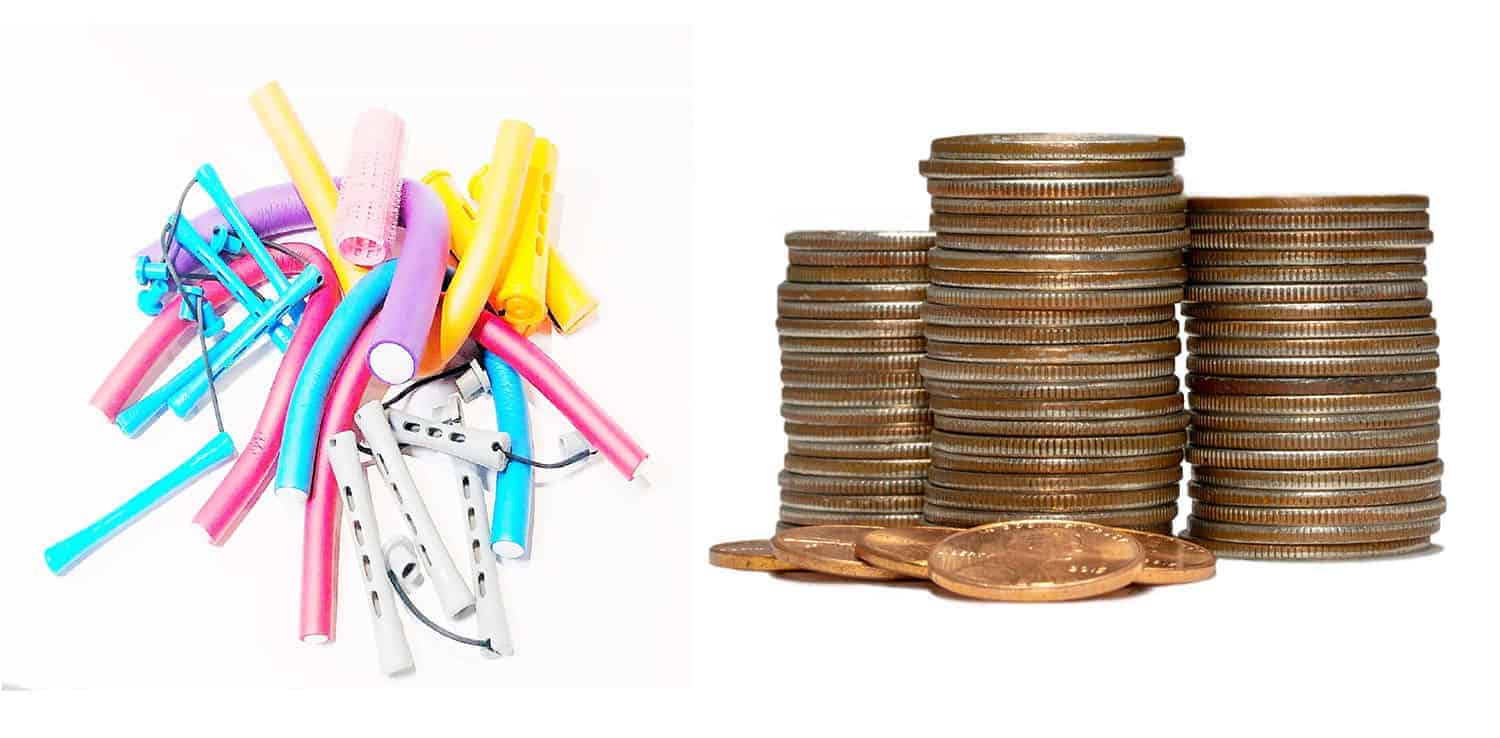 How Much Does a Perm Cost
Traditional Perm with basic rod placement Average Starting Price- $85 (specialty wraps usually cost more)
American Wave Perm Average Starting Price – $200
Partial Perm Average Starting Price – $55
Digital Perm Average Starting Price -$250-$300
Root Perm Average Starting Price – $45
Olaplex Perm Average Starting Price – $120
Pricing with perms is just like other salon services, it is dependent on the length and density of hair. Special wraps can be an upcharge.