Highlighted Hair
Highlights and lowlights are multidimensional colored hair with streaks of a color that contrast with the base color (the solid color your hair is prior to highlighting).
Highlights are added to the hair using lightener, color, and or direct hair dyes.
Highlights are pieces lighter than your base color, and lowlights are darker than your base color.
This process entails having your stylist "weave" out tiny strips of hair creating a stripe, also known as a highlight in the hair.
The hair that is weaved out is then placed into a foil to process to ensure that the product being used stays contained and does not touch the base color.
Maybe you just got a new job, or broke up with your significant other, or maybe you have a first date coming up with someone you have had your eye on.
Now you are feeling like you want a change and you want to spruce up your hair. Highlighted Hair can be your answer. There are plenty of options when it comes to getting highlighted hair.
This guide will help you decide which highlights are right for you so you can be prepared for your consultation at the salon.
Types of Highlights
Full Highlights
There are different placement options for highlights.
Let's discuss partial vs. full highlights.
The simplest to understand is a full highlight, this means sections of hair all of your head will be covered with highlighted pieces.
Someone may choose to receive a full highlight service if they want to add variation to their whole head. Full highlights are great for the client who likes to wear their hair up, or half up.
By placing the highlights all over the head you ensure consistency of the color.
Full highlights also allow you the brightest look when receiving a highlight service.
If you are not looking to completely change all of your hair you may want to go with a partial highlight.
Partial Highlights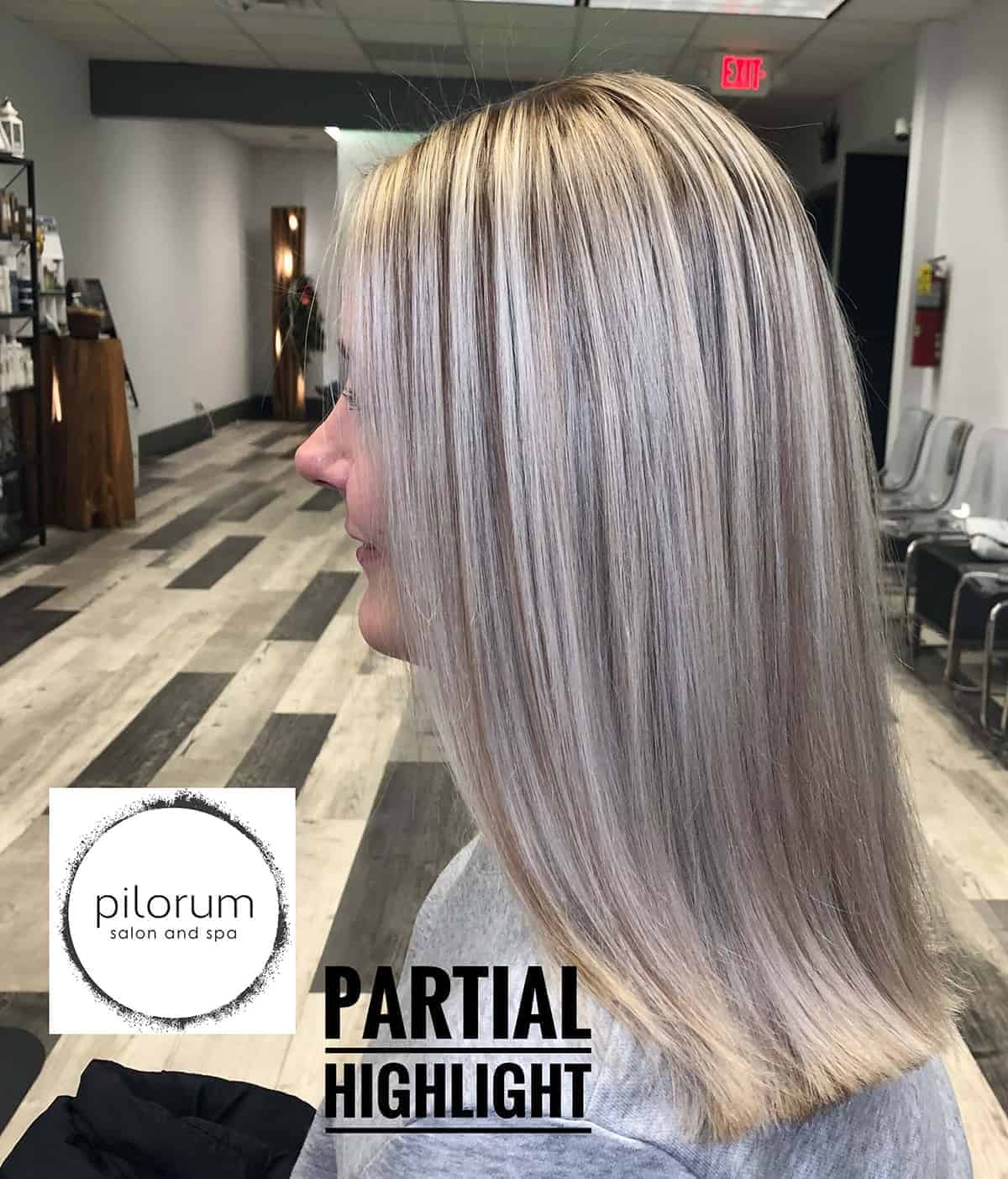 A partial highlight traditionally includes all of the hair in the front of your head, and the top back area usually above the ears.
The underneath sections of the hair do not get highlights when receiving a partial highlight.
This part of the hair would remain the same color the client started with.
Some people choose a partial highlight because they like having the solid color pop through underneath because it can give the hair some depth. Especially if the hair is finer.
Others choose a partial highlight because it is usually a less expensive and more cost effective option. A client who wears their hair half up may not like having this two tone look underneath.
A partial highlight may also be suggested for short haired clients rocking a stacked bob or pixie. Highlighting hair that is too short can sometimes cause what I like to call cheetah spots on the short pieces of hair.
Dimensional Highlights
You can also ask for some dimensional highlights.
Often times the stylist will use these kinds of highlights to enhance your cut.
For example, maybe you have a heavy side bang and the stylist will choose to put a few foils in your fringe area to add some pizazz to the front of your hair.
Or maybe your asymmetrical cut just isn't fun enough for your glowing personality, you can have some dimensional highlights put on your longer side to help draw some attention to your cool style.
Babylights
If you are not really into a traditional highlighted look and are just looking for something more natural and sun kissed, you can also request some babylights.
These are very finely weaved pieces of hair, sometimes also referred to as micro weaves.
The tiny pieces enhance hair color without giving a stripy look.
They also grow out a little nicer than traditional highlights giving you more time between appointments.
Though the babylights can give you a few extra weeks between appointments, they usually do come at a slightly higher price tag than a traditionally weaved highlight.
The thickness of a highlight is usually a personal preference but babylights are great for the client who likes having a more blended look.
By having a lot of babylights put in you can completely brighten your look without having to go with a solid blonde all over, leaving some of your base color in between to help blend when your hair grows.
This avoids a solid line of outgrowth that you would see if your hair was solid blonde.
Regardless of the placement option you choose, you can experiment and play with many different color combinations. Let's go over some of those options next.
Highlights and Lowlights – What in the world is the difference?
We hair stylists often think our clients understand all of our fancy terms and hairstylist language.
But, in my 15+ years of doing hair I have learned we cannot assume and this is not always the case. On many occasions I have had clients ask me for "highlights, or low lights or whatever they are called".
So, I am going to simply explain the difference. Highlights are lighter than your existing base color, Low lights are darker than your existing color.
I will give an example of what I mean. Let's say our client, Betty, has light brown hair all over.
She wants to add some depth to her hair, but she is not ready to make her hair all dark brown. Betty can add some low lights to her hair.
The low lights would be a dark brown color. But maybe Betty wants to add some brightness to her light brown hair, she would be getting some highlights.
These pieces could be a light blonde color. Betty can also get super fancy and add highlights and low lights to her existing light brown color.
By adding both highlights and lowlights to her hair she can add a lot of variation and dimension to her once boring light brown hair.
Balayage vs Highlights
You may have heard this fancy word "balayage" which no one can ever pronounce ( BAH-LEE-AHGE ).
You might not even know the difference between a highlight and a balayage.
Though balayage is the name of a technique it has become common practice to describe a look with this term.
The look usually entails blonde hair color at the ends which also looks grown out at the roots.
A highlight is placed all the way up to the root of the hair.
Someone who wants their hair brighter all over and does not like their natural colored roots growing out would be better off receiving a highlight service than a balayage.
The highlights do require more maintenance and slightly more frequent visits to the salon but they will allow you to achieve a lighter look.
Don't automatically think Kelly Clarkson streaks when we say highlights and run for the hills towards a balayage.
You can always get babylights as mentioned above.
Red Highlights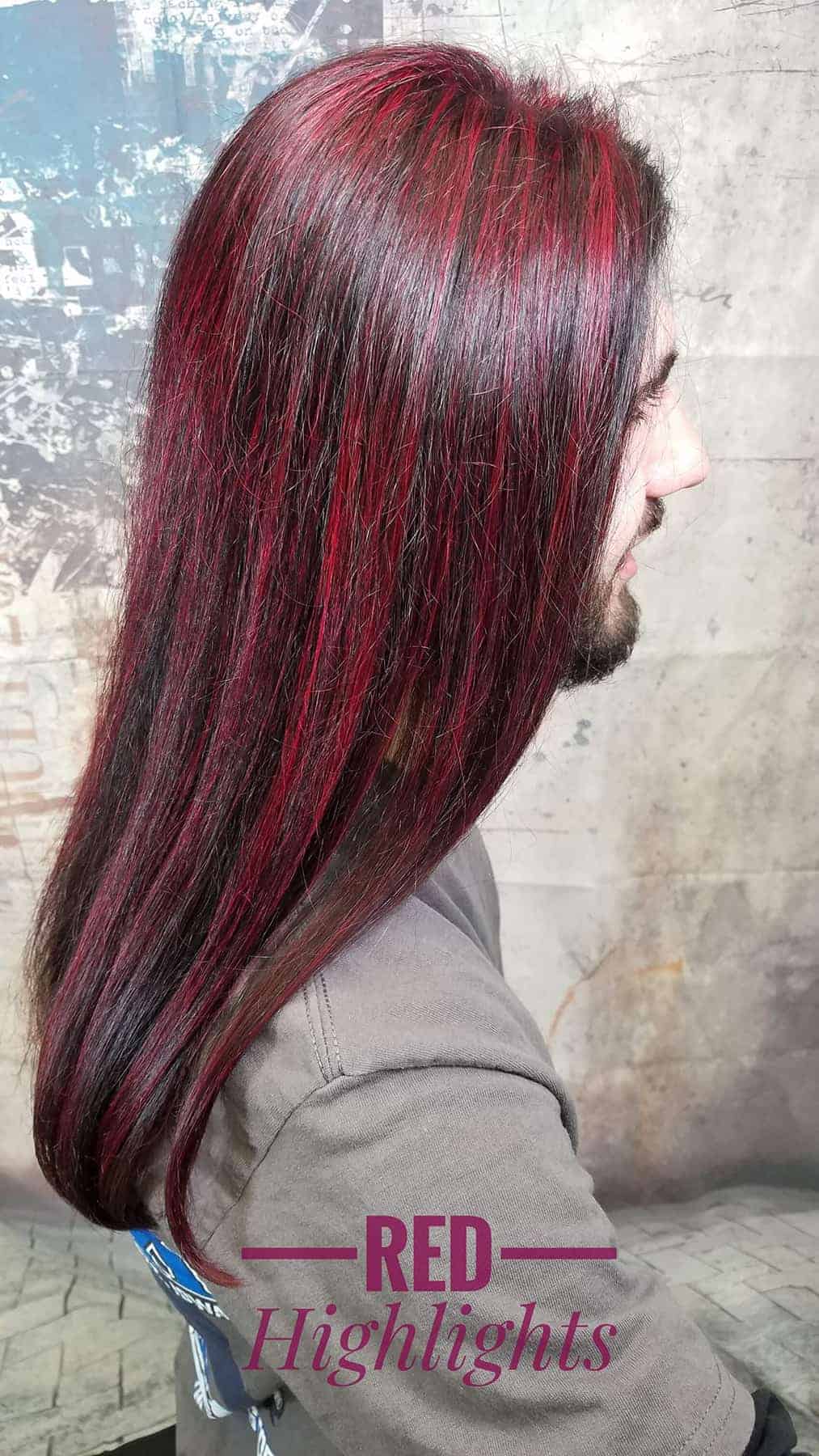 Maybe you are feeling a little spicy, you are over blonde and caramel highlights.
It might be time to get out of your comfort zone and try something fresh.
Red highlights could be your answer.
If you have naturally blonde hair red highlights can help give your overall look a slightly strawberry blonde look.
You can also opt for blonde and red highlights.
Just be aware that putting red into pre lightened hair could cause "bleeding" onto your blonde tresses (meaning your blonde pieces can grab the red tone and turn slightly pink).
Make sure you see an experienced stylist if you are going for this look.
Brown haired babes, you can also enjoy some red highlights however, depending on your desired shaded of red the pieces may have to be lightened prior to the red being applied.
What does this mean?
First the pieces you want to have highlighted will be lightened with a bleach product and then the stylist can go back in tone the pieces.
This can commit you to more maintenance meaning you will need to go in and have the hair re toned about 3 weeks after having it done.
Another way to get these pre lightened pieces red is to use a bright vivid color. Being that this process requires a little more work, you may be looking at a higher price tag.
The process entails having your pieces lightened, usually in foils, after this, the hair will be washed and dried. Those blonde pieces will then have to be re foiled and covered with a bright vivid shade.
If you choose to add a more natural red shade to your natural blonde hair, your hair may not require pre lightening, however if your hair is colored brown you will need one of the first two processes.
Black Hair with Highlights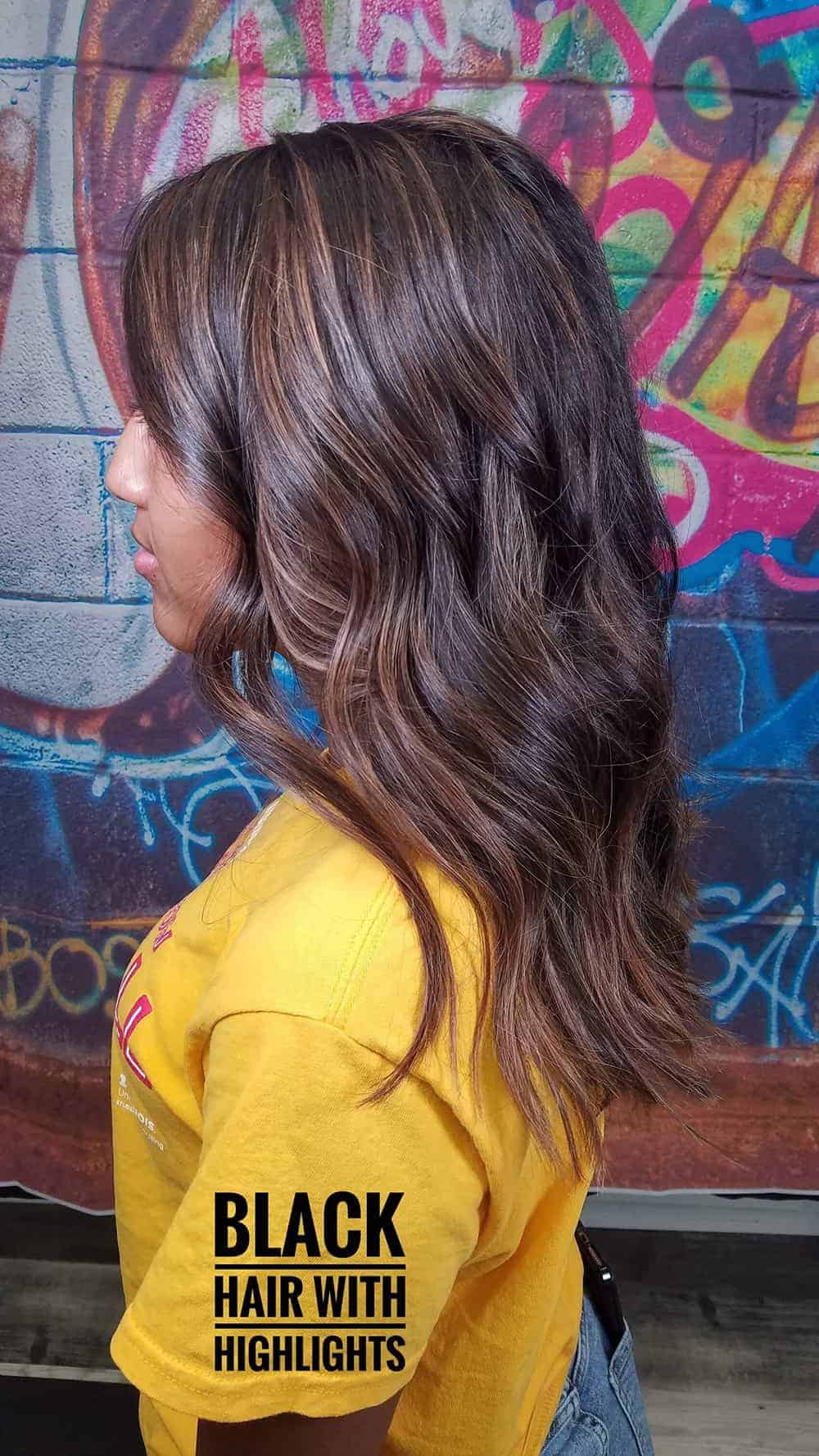 You have spent years of your life rocking the sexy goth "Evanescence" black hair look and now you want to add something to your "blank black canvas".
You can have highlights with black hair but be sure to keep your expectations realistic.
By this I mean, don't go to your hair stylist asking for silver or white blonde streaks in your black hair in one sitting because it's probably not going to happen.
Colors like silver and bright vivid colors do often require multiple sessions and visits to the salon.
Lightener needs to be applied to black hair to first lighten it up prior to putting a bright color back into the hair like a red, silver, blue, violet, green etc.
This kind of color usually requires a larger investment because the colors do need to be refreshed every few weeks to stay looking bright and beautiful.
A very nice option for a black base color is always a deep caramel highlight or red highlight.
Color choice is always based on preference.
If your trying to rock something a little punkier and fun, you may want to consider some fun red highlights.
Making your black hair look softer and more natural can be achieved by adding some caramel highlights or some brown highlights.
Sometimes just adding a pop of color around the face can be a fun change by adding some face faming highlights.
Traditionally these kinds of highlights would be done around the perimeter of your face to brighten your look a bit.
Adding highlights to black hair can also be a good way to transition to a lighter color.
By breaking up the black hair with streaks of a lighter color, you can smoothly transition out of a solid black color in a gradual way.
Blue Highlights

You can get really fancy and get some blue highlights in your black hair too.
Keep in mind it would involve the same process as putting red highlights in your hair, usually requiring the hair to be pre lightened and then toned or re colored with a blue vivid color.
This option would also require more maintenance than a traditional color like caramel or brown.
Red Hair with Blonde Highlights
Natural red hair has always been part of your signature look, and you have had people tell you your whole life how beautiful it is, and to never color it.
With that said, you have always been envious of your friends who have fun changing up their look with different hair colors.
Don't worry, you too can add some flare to your natural ginger locks by adding some highlights.
Golden tones and rose colors tend to look great with natural red hair and subtlety enhance what your mamma gave you.
For a low maintenance look you can add some peekaboo highlights.
Peekaboo Highlights
Peekaboo highlights are placed on the inside of your hair, saving you from every 4-6-week touch ups.
These pieces are hidden within the hair and are never done on top of the hair near the part line.
Highlights like this are great for the client who is not ready to commit to keeping up with their outgrowth, or even for kids who want a fun color for summer break.
If you choose a bright " fun" color for your peekaboo highlights do be aware that the hair will usually have to be pre lightened before a bright color can be applied.
This 2-step process can be a little more expensive than just adding peekaboo's using traditional hair color.
However, depending on the color of highlights you choose you may need to stop in to the salon for a toner from time to time.
Peekaboo highlights / peekaboo hair can be as subtle or obvious as you want them. These can be weaved in finely to blend in, or sliced in for more pop.
Growing out Gray Hair with Highlights
Years of your life have spent in the salon, countless hours with your stylist, and you have finally decided you are done with fighting those grey hairs.
One option for embracing out your natural Elsa hair is growing out your grey hair with highlights.
By adding some silver baby lights you are able to transition your years of color to your natural color.
This isn't always as simple as it seems depending on the color you are starting with.
If you have been coloring your hair a dark or red color for years your highlights may come out a warm or golden color, obviously this will not match perfectly with your grey hair.
Transitioning from all over color to your grey can be a process which requires some patience.
However, in the long run this is one of the safest ways for your hair to transition.
Other processes would involve lightening your whole head, usually more than one time (multiple sessions).
Processes like this could be harmful to the integrity of your hair.
Slow and steady is the key.
Now, let's talk about if you are already blonde and planning on transitioning to your natural grey color.
If you have natural salt and pepper your stylist might choose to add some low lights in addition to some fresh highlights which would then be toned to a cool color, matching your grey as closely as possible.
Please don't forget that transitioning back to grey will be a process regardless of your starting color.
Patience is the key in this scenario, regardless of the process you and your stylist choose.
Curly Hair Highlights
I have curly hair; can I still have highlights in my hair?
The simple answer is yes, but as we know with hair color the answer isn't always simple.
While curly hair looks beautiful when it is highlighted, curly hair highlights should come with a slight caution label.
Because curly hair does tend to be dryer by nature a curly girl should be cautious to not over process their hair.
If your hair is natural and has never been colored, you do have the option of using color instead of lightener to add some highlights.
While this option will not get you super light blonde highlights it can add some brightness in a safer way.
If your stylist does choose to use lightener for your highlights, do make sure it doesn't stay on your hair too long.
Also, when you are receiving touch ups make sure you are visiting an experienced stylist who will not overlap the lightener.
As far as placement for curly hair, you do have to make some decisions.
If you are always wearing your hair curly you may want to consider thicker highlights.
These will be more noticeable when you are rocking your natural curl pattern.
However, if you do wear your hair straight on a pretty regular basis you may not like the chunky look when your hair is smoothed out.
Be sure to discuss the placement with your stylist based on your styling preference.
Having highlights that are too thin in very curly hair which is normally worn curly may look too blended.
If contrast is what you are looking for having finely weaved highlights may not be the answer for you.
Base Color with Highlights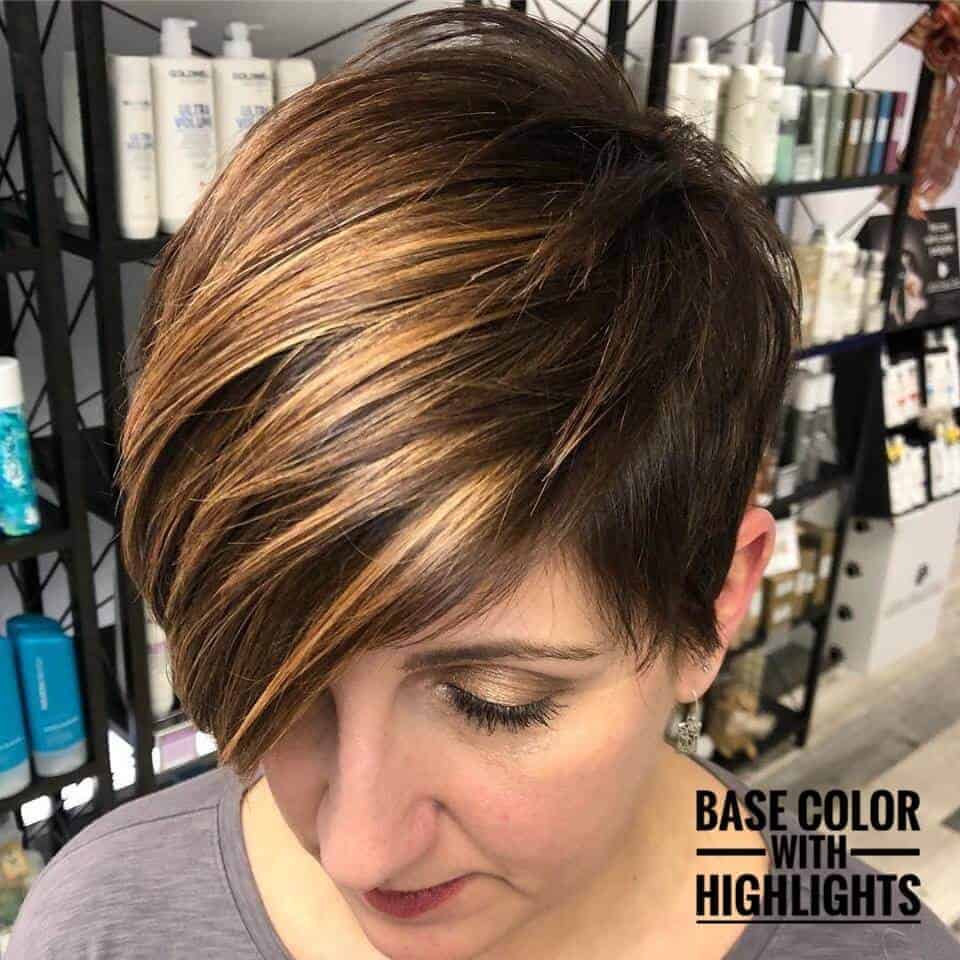 Sometimes you just need a fresh start.
Maybe you are hating your base color and sick of your balayage and maybe it is just time to start over.
If this is the case, you can get a fresh base color and have new highlights put in.
Your stylist can help you pick a great color combination to give you a whole new look.
Always remember that choosing a base color very different from your natural color will require more maintenance than just putting highlights in your natural color.
If you do choose an option that is different from your natural color you can get away with all over base color touch ups every other time you add highlights.
Do be aware that base color and highlights will come at a slightly higher price tag as you are paying for two different application techniques in addition to extra color.
But can my hair be permed after I highlight it with lightener or color?
You are in luck; the answer is yes!
Thanks to the invention of the Color Wave by Arrojo, you can now perm highlighted hair (as long as it is in good condition).
Learn more about perms and perm styles.
In conclusion……
No matter what kind of dimensional highlights you choose to go with, they can be a great way to enhance the color you already have on your hair.
Be prepared to invest in professional products to maintain your beautiful new color.
The most trusted shampoos and recommendations can be found at your salon, and per your stylist's suggestion to insure the protection of your beautiful new hues.