80s Hairstyles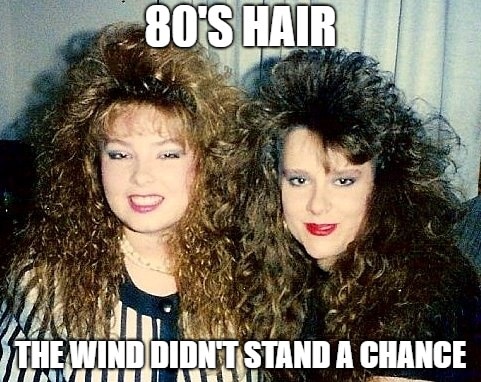 Back and Bigger than ever
80s hair is statement hair. It's big, it's loud and it's proud. Nothing about hair in the 80s was ordinary, the more unique the better. Typically it requires a lot of hairspray.
The fashion trends in the 80s were definitely topped off by some unique and interesting hair styles such as mullets, perms, bowl cuts, shag styles and "hair band" hair.
Some people have held out hope that one day just maybe their beloved 1980s hairstyles would be current again. Resistant to any suggestions from their stylist to eliminate the mullet, calm down that curl, and leave the shag for your living room rug.
But the day has come. 80's hair is finally back. So,while the rest of the world scrambles to get into the salon to rewind back to the textured trends that ruled 30+ years ago there's a group of people relieved that they stuck to their guns.
The hair world saw a glimpse of the return of the 80's over the past year with the return of perms. Some people opted for a more modern perm or "wave".
Man perms have become increasingly more popular thanks to soccer players rocking tightly faded styles topped with full tight curls. Some people dove right back in and committed to tightly permed curls.
Mullet Hair
Business in the front, party in the back… the mullet.
The mullet is a hair trend that is making a fierce comeback. A traditional mullet entails having your hair cut significantly shorter in the front of the ears than it is behind the ears. While some people rocked conservative mullets like Billy Ray Cyrus and Patrick Swayze others took it to a whole new level think, Joe Dirt.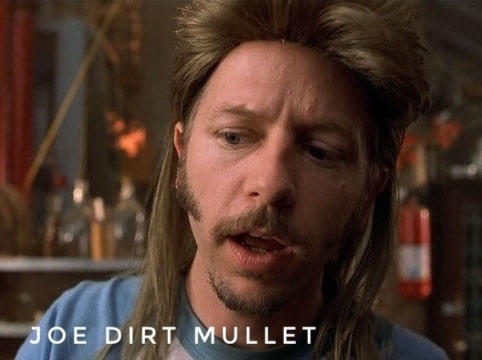 You may be thinking to yourself what are the benefits of cutting my hair into a mullet? Well, if you really desire full volume on the top but are attached to your length a mullet might just be right for you. Think about it, you can maintain your length and never have to worry about tucking your hair behind your ears, or having your hair fall in your face while you are working. That's where the business comes in.  The party happens when you can rock that tail and grow the length as long as you want. Just do not forget to pick up some aquanet or Aquage Freezing Spray and spike that top up high.
Billie Eilish Mullet
The Billie Eilish Mullet or fashion mullet is an emerging trend. It is meant to make a statement. While some celebs rock their effortless beach waves ,others have chosen to stand out rockin the fashion mullet.
A fashion mullet is an understated modern version of a traditional 80s mullet. It could be more layered, or incorporate a modern bang. Usually the fashion mullet is created using more layers allowing it to be styled a few different ways, including adding some tousled curls.
Celbs are starting to embrace the fashion mullet. Billy Elish is making a splash with this style, enhancing it with her funky colors. Her mullet is styled in a modern manner wearing it sleeker and parted in the middle without a bang.
Usually standard 80's mullets were styled a little higher and had a fuller bang, often making it look like there was a porcupine grasping to the top of one's head.
Kpop Mullet
To picture this kind of mullet just think about a mushroom haircut and a mullet having a baby and you have a kpop mullet.
The Kpop scene might just be part of the reason the mullet is making a come back. We started seeing mullet in the kpop celebs some time ago.
Random tangent thought…. Is the mullet coming back because of desire or necessity?
With silver hair being all the rage for the past couple of years, people impatiently visited salons hoping to get Elsa hair in one sitting. This is extremely damaging to hair if not done properly. Are we bringing the mullet back because we have all fried our hair to the point that the front of it is just breaking off? Now we have no choice, and we are embracing a past trend… Just a thought!
Anyhow, if you do have to/ want to get a mullet make sure you live up to your mullets full potential.
But, what happens if you aren't ready to fully commit to cutting all the length of your sides but you love all of those short layers a mullet has to offer. Perhaps you would consider the shag.
Short Shag Haircuts
Hair by: @jayne_edosalon
I often wondered to myself how we managed to name a haircut after an "intimate" action or how an "intimate" action was named after a haircut. Well, all I can come up with is that maybe, the shag was such a rockin haircut back in the day that you just can't have one without the other.
I was too young in the 80's to have understood or experienced what the power of the shag could be. Just to cover myself I'll take this moment to slide in a public service announcement warning you all that it's completely possible this haircut can make you irresistible. I mean, just think about Rod Stewart in all his sex symbol kinds of ways.
The shag is a haircut full of layers. Layers upon layers upon layers. Usually being finished off by a rockin bang, and a feathered front perimeter.
The shag gives you length. It gives you volume. It gives you texture, and it makes you feel like a rock star. I did, at one point have a shag, but in my day we often called it a dolly rocker haircut or an emo cut. Those of you around my age know exactly what I'm talking about. The main difference between an emo cut and a shag haircut is usually the bangs. Either way this cut is making a comeback.
One of my favorites for hair inspos, Julianne Hough, is rocking a modern shag. Accented beautifully by her curtain bang.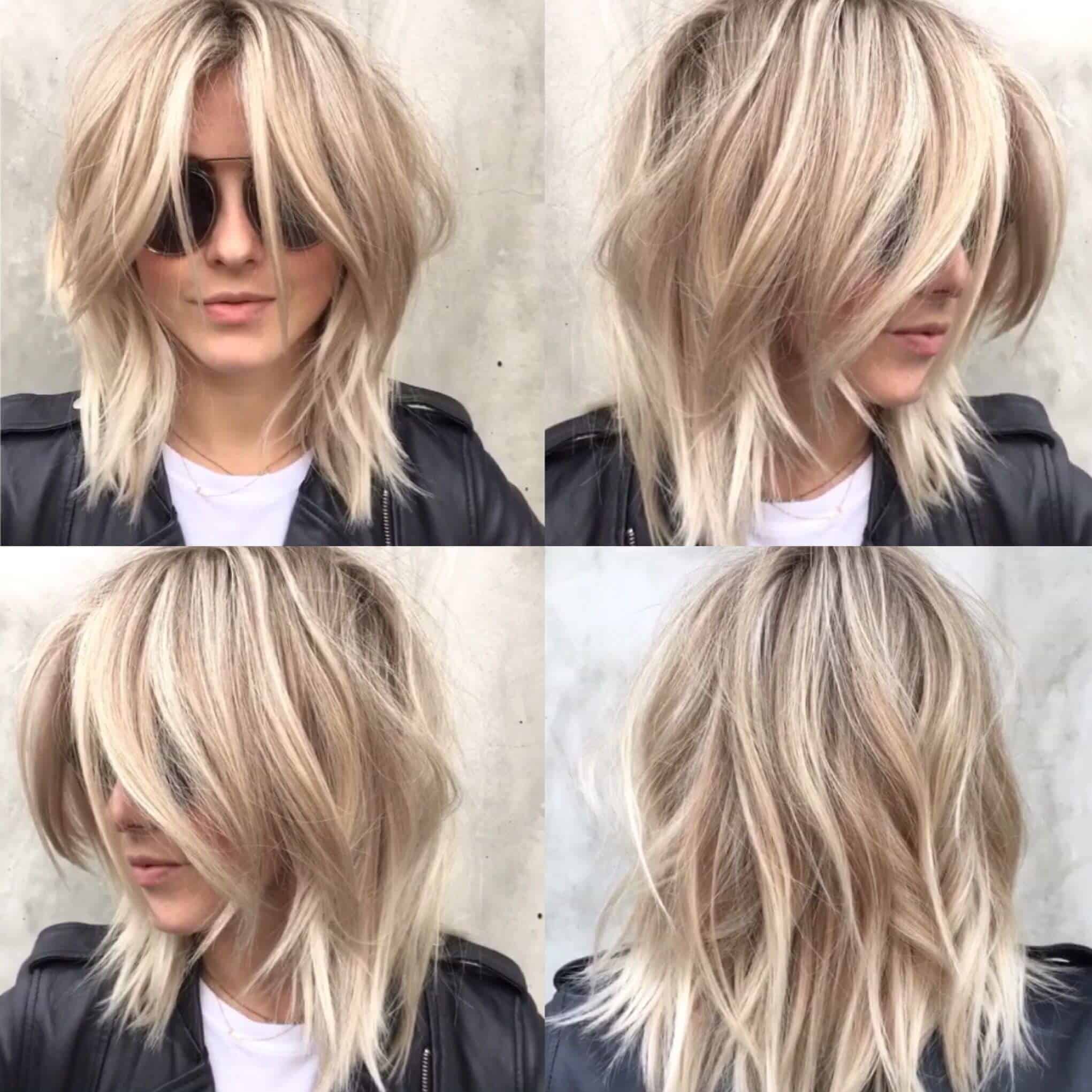 The curtain bang, in my opinion, is more of a throwback to the late 70s but I'm loving the versatility mixed in with the 80s styles.
A modern shag maintains a denser perimeter (the longest bottom part of the hair is thicker) this is important for our modern tousled styles and adds a little more versatility allowing the volume made possible by the layers. And the bluntness made possible by maintaining the density around the perimeter of the hair.
Hair by: @amanda.laity   Color by: @christinekeeny   Pictured: @racheldegler
A total throwback shag like the one Joan Jett rocked has a much more shattered perimeter. The length of the hair is texturized and feathered leaving a very imperfect line that was meant to hug around the neck. Topped off with an abundance of very short layers. Carol Brady rocked a pretty wicked shag as well. Let's just call that the housewife shag. But to be fair she went through phases of shag and mullet.
You may remember the Charlie's Angels. Farrah Fawsett's feathered hairstyles were extremely desirable.
Feathered Hair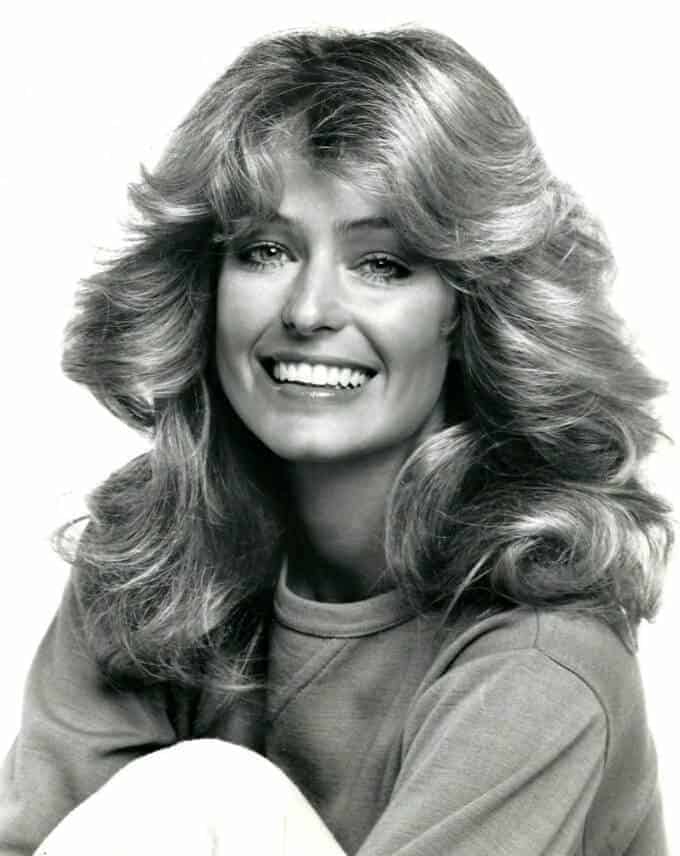 Though feathered hair is reminiscent of the late 70's we are still seeing some of those trends making a comeback. Very often feathered styles are created by being cut with a razor instead of traditional cutting shears.
A cut created using a razor leaves the ends of the hair wispy. A necessity for  styles which require a light airy feel. This technique helps the hair act weightless and assists with the ends "feathering" into each other.
Feathered hairstyles are often styled away from the face creating an open style, exposing and accentuating your natural features.
80s Perm
80s perms differ from modern day perms in a few ways. Traditional 80s perms were meant to be huge! The bigger the better, the higher the hair the closer to god, tease it to Jesus!
Spiral perms were a big hit in the 80s allowing people a lot of little curls, filling out their style and achieving hair heights never possible before.
Modern day perms are more subtle and natural. Even so, we are seeing the perm coming back, maybe not bigger than ever, but it's definitely back.
Teased Hair
The ability to tease one's hair was an essential art form that true 80s fashionistas needed to perfect. Some people in the 80s took their already big hair to a whole other level by teasing it. Upping one's height by sometimes as much as 6 inches. There are so many hair styles you could apply teasing to, whether it be the mullet, a perm, a shag or even a feathered haircut.
How to Tease Hair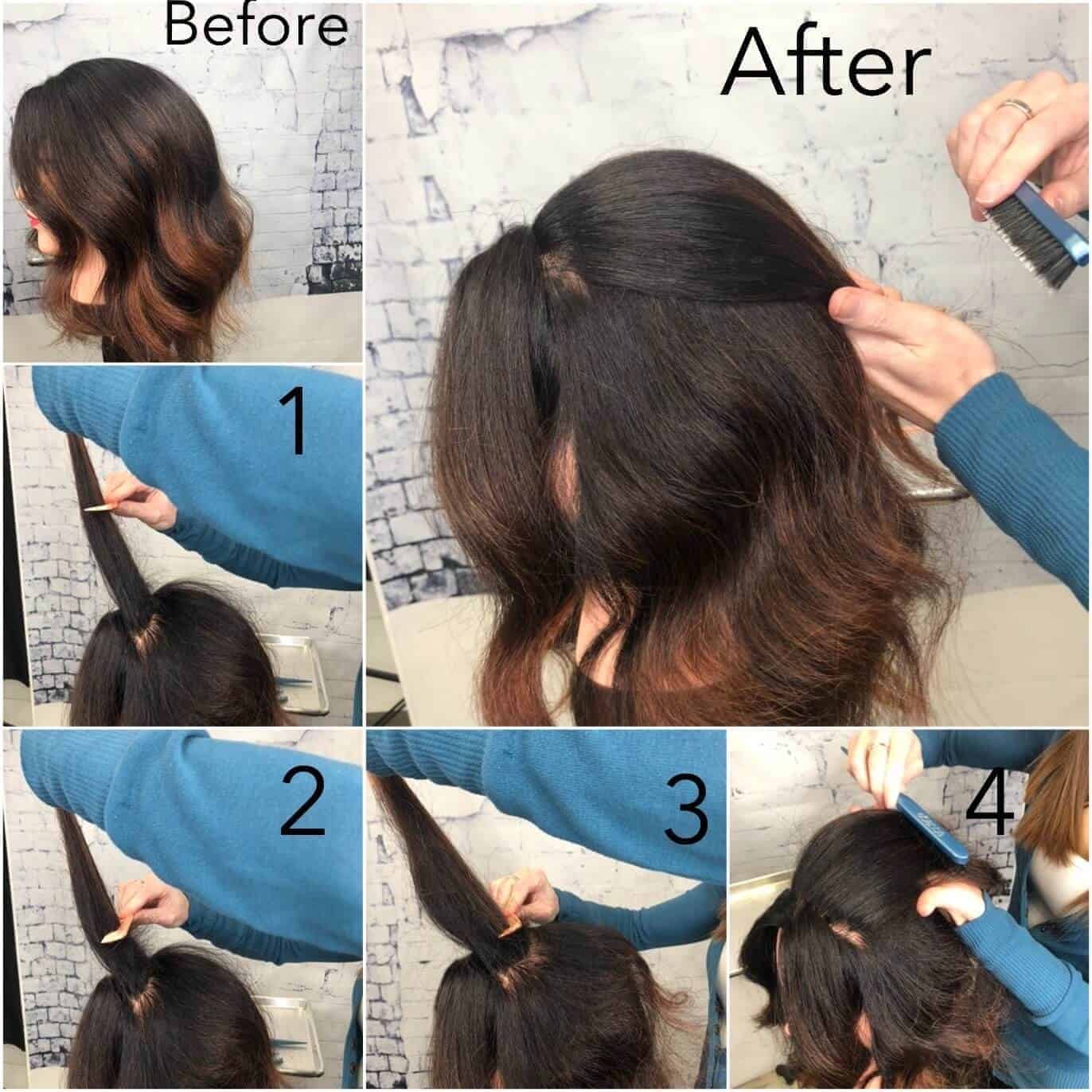 To tease one's hair, one must back comb pieces of the hair, creating an interior cushion which lends support to the innermost structure of a style.
To do this, hold the hair up from your head, take a finer toothed comb, or "smoothing brush", and comb the hair backwards towards the scalp. Repeat this step multiple times on each section of hair where extra height is desired.
When the "teasing" part of the process is complete, take your smoothing brush and gently smooth the outermost section of the hair over your new little cushion. Do NOT brush hard or you will brush out your tease.
Also, if you are teasing over your curly (natural or permed) hair, consider teasing just the roots of smaller sections and do not brush through your curls. Unless of course you desire the "finger in an electric socket" kind of look.
80s bangs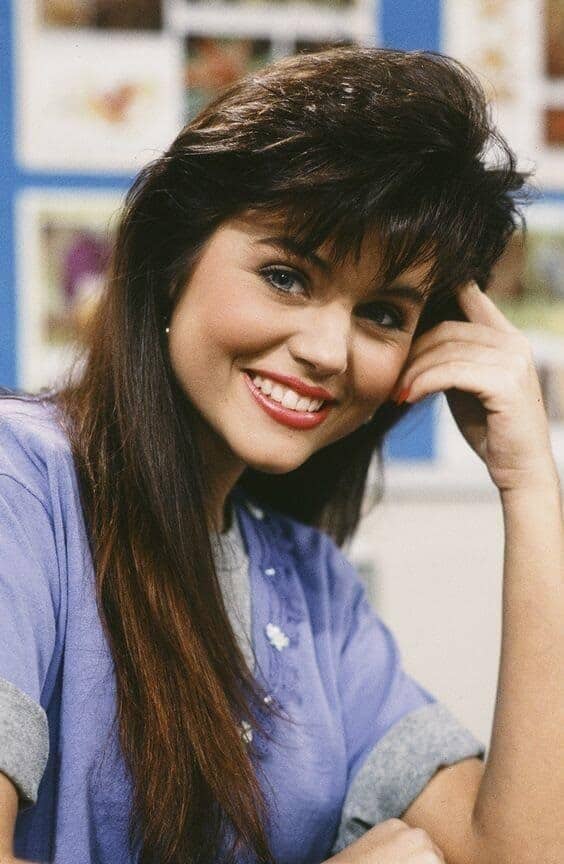 I am not going to even attempt to sugar coat this. In my opinion, 80s bangs were bad, they were really really bad. They looked as though a small creature had decided to make its home on your forehead, and go everywhere with you.
Not only were they full, they were ferocious. Injury could come to those who don't tread carefully. Boy do I feel bad for people who were making out at lovers point in the 80s.
To fully picture an 80s bang, just imagine a classic forward bang, and then add hairspray to it while lifting it up, continue to do this until you run out of the bonus 25% extra size of Aquanet and your bang is defying gravity.
Now, do you look like you have experienced a tornado? Good! Then you have properly styled your 80s bang. If you think you love bangs, but do not feel the need to hurt your significant other while they are trying to kiss you, consider some more modern bang options.
I'm hoping this particular kind of bang does not come back in style, but different kinds of bangs are definitely making a comeback.
80s headbands
Let us not forget some of the best parts of hairstyles in the 80s. The accessories. 80s headbands were big and bold, just like the hair. If you remember 80s Madonna, she loved to rock bows, hats, headbands and even little bursts of tule.
We have paid homage to 1980s Madonna through the last few decades with our accessories. But one accessory that people my age never thought we would see return was the scrunchie.
Scrunchies
What in the actual…scrunchie is happening. A scrunchie, named after its "scrunched up look",  is a fancy hair tie used for purpose and decoration. A regular elastic hair tie is enveloped in fun fabrics, allowing the individual to show off their personal style.
I thought we had seen the last of those but they are back and they are bold. We are seeing bright scrunchies, satin scrunchies, velvet scrunchies, even some sparkly scrunchies.
However you decide to channel your inner 80s womens fashion is up to you. The possibilities are endless.
Just remember, the bolder the better. For those of you who decide to dabble in these hair trends and don't know where to begin, don't rule out your mom as your trend advisor. That's right you mom.
She is the OG of 80's hair and can give you better pointers than your 20 or 30 something year old hairdresser probably can. Go right to the source, the founders, the women who made these trends what we know them to be today.